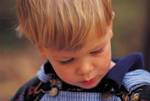 It is naturally distressing for parents when they see their child banging his or her head. But experts say that this behavior stops naturally. Kids bang their heads to release anger or tension.
Head bangers are highly sensitive to sound and often have musical ability. They are likely to have temper tantrums and are frequently poor sleepers. Also, personal traits such as being energetic, neat, ritualistic, and physically cautions have been observed.
To stop the head banging, gently pick up the child and comfort him. Do not focus on the behavior. Do not scold or punish the child or give undue attention to him.