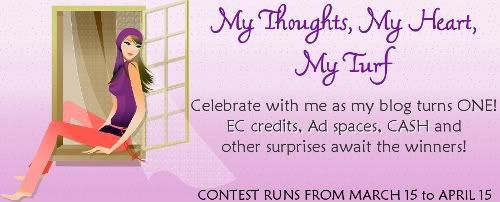 Bambie of
MY THOUGHTS, MY HEART, MY TURF
is having the first anniversary contest. After a year of quite an accomplishment, there she is, having a blast contest for all her friends. I am one of the sponsor. So lets support her! Join us..
How to enter:
1. Blog about the contest and enter the link to the post on her MckLinky (45 points)
2. Please include the contest banner on your post. It doesn't matter whether you place it before, within or after your post as long as it's there. (additional 15 points)
3. Wear the contest badge anywhere in your blog, left or right side bar, as long as it's on a readily visible spot. (20 points)
4. Subscribe to her feeds. Please confirm your subscription; otherwise you won't be credited with any points. (10 points)
5. Be a follower of her blog.
**For items 4 through 5, you can provide the e-mail address you used to subscribe and username used to follow her blog.
Sponsors:
A Woman Remembers
- 1,000 EC credits, 1 month AD space and $5.00
Azumi...Lil Dolly Princess
- $5.00
Best Vacation Places
- $5.00
Brisbane Hotels
- $5.00
Diva Fabulosa
- $5.00
From this Side
- 3,000 EC credits
Girls Rule!
- $5.00
Just About Anything
- $5.00
Live for Life
- 4,000 EC credits and 2 months AD space
Living Life to the Fullest
- $5.00 + 1,000 EC credits
Momma Wannabe
- $5.00
My So-Called World
- $5.00 + 1 month AD space
Niko's Blog
- $5.00
Stalking Minds
- $5.00
The Mommy Journey
- 5,000 EC credits
The Snoring Queen
- 5,000 EC credits
Travelin' with Marie
- 8"x8", 20-page Photobook ($20.00 value) and two 1 month AD spaces
Wahmaholic
- Wordpress or Blogger template based on the winner's choice of theme and color >
Secondary Sponsor:
The contest will run from March 15th – April 15th.